The Man Behind the Columns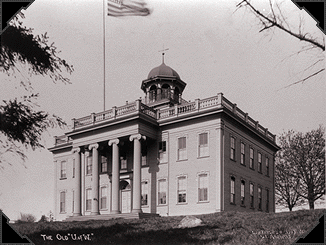 ---
This photo of the original Territo rial University building (now the site of the Olympic Hotel in downtown Seattle) shows the columns as they looked when constructed in 1861.
---
While Columnsmagazine is 90 years old, the age of the original columns in the University's Sylvan Theater beats the magazine by another 47 years. These are the original, hard-carved pillars which once graced the main portico of the University's first building dating from 1861–although the present Ionic capitals atop the four columns are modern fiberglass replacements, modeled from the originals.
Professor Edmond S. Meany made an eloquent plea to save the original building previous to its demolition in 1908, even suggesting that students and alumni of the University join together and physically carry the building from its downtown site to the campus in Montlake. Even though the building was in remarkably good condition, it was razed and only the four columns made their way to campus.